your one-stop certification solution!
What is KGS Factory Registration for Korea?
The KGS Factory Registration constitutes the general export license of pressure equipment manufacturers to Korea. The KGS certificate is issued by the Korea Gas Safety Corporation (KGS) for approved product categories. Without KGS factory registration, pressure equipment may not be imported into Korea, which is strictly checked by customs.
KGS Factory Registration for certain gas and pressure equipment was established to ensure that only manufacturers that meet certain quality and safety standards are allowed to export their products to Korea. The Korea Gas Safety Corporation, established in 1979, is entrusted with carrying out the approval process. After confirming compliance through a technical review and factory audit, the Ministry of Trade, Industry and Energy (MOTIE) will issue the factory registration.

South Korea has designated the hydrogen economy as a key factor for economic growth and for reaching the goal of carbon neutrality. As part of the Hydrogen Act certain product categories have been defined to require a KGS factory registration, to regulate and promote safety in this high-risk industry. This mainly concerns fuel cells (fixed and portable) and electrolysers (including PEM and AEM hydrogen generators). Additionally, South Korea is also building up a network of hydrogen refueling stations. Certain components used in these can require additional approvals, like testing according to KS B ISO 19880-3 or a KS certification. Especially in applications using liquified hydrogen, there are additional safety requirements and permits needed for the approval of components like pressure vessels or entire facilities.
Which products require KGS Factory Registration?
KGS factory certification distinguishes between pressure equipment covered by the High-Pressure Gas Safety Act and gas equipment relevant under the Safety Control and Business of Liquefied Petroleum Gas Act:
High-Pressure Gas Cylinders etc. (subject to the High-Pressure Gas Safety Act)
1
Cylinders (excluded if internal volume is less than 300ml)
(Seamless Cylinders, Welded Cylinders, Cryogenic Gas Cylinders, Cylinders for Vehicles, Composite Cylinders (for LPG, Hydrogen or other High-Pressure Gases)
2
Cylinder Accessories (valves and safety valves)
3
Storage Tanks
4
Pressure Vessels (Heat Exchanger or Drum, Tower, Reactors & others)
(applies to pressure vessels whose value of multiplying design pressure (MPa) and volume (m³) exceeds 0.004 as the pressure
or if the design pressure is 0.2 MPa or more for liquid gas at 35 ℃ and 1MPa or more for compressed gas at 35 ℃)
5
High-Pressure Gas Tanks Fixed on Vehicles
6
Emergency cut-off devices for high-pressure gases
7
Safety valves for high-pressure gases
8
Valves for toxic gas pipes
9
Specified equipment for refrigeration:
Compressors, Condensers, Vaporizers and Pressure Vessels
Gas appliances (subject to the Safety Control and Business of Liquefied Petroleum Gas Act)
1
Pressure Regulators
2
Automatic Shut-off Device for Gas Leakage
3
Filters for Governor Stations
4
Governors for Underground Use(applies to pressure vessels whose value of multiplying design pressure (MPa) and volume (m³) exceeds 0.004 as the pressure
or if the design pressure is 0.2 MPa or more for liquid gas at 35 ℃ and 1MPa or more for compressed gas at 35 ℃)
5
Hoses for Gases
6
Valves for Pipes
7
Gas Cocks
8
Joints for Pipes
9
Multifunctional Gas Meters
10
Loading Arms
11
Forced Mixing Type Gas Burners
12
Gas Ovens and Gas Grills
13
Gas Water Heaters, Gas Boilers
14
Commercial Gas Burning Appliances
15
Portable Butane and Propane Stoves
Hydrogen appliances (subject to the Hydrogen Act)
| | |
| --- | --- |
| 1 | Fixed Fuel Cells |
| 2 | Portable Fuel Cells |
| 3 | Water Electrolysis Hydrogen Generator |
| 4 | Hydrogen Generators Using Fuel Processing |
KGS Certification Process
Preparation of the application and documentation
Application submission & technical examination of submitted documentation
Factory Audit by KGS (several days) & issuance of the audit report
Application for MOTIE Factory Registration
Issuance of the Factory Registration
When applying for KGS factory registration for the above product categories, international standards may be used as a basis as part of the KGS certification process. A factory registration for pressure vessels or safety valves may for example be based on ASME Sec. VIII, Div.1 or PED + AD2000, which will then also be documented on the KGS certificate of factory registration. Some of the application documents for the technical inspection which the manufacturer needs to submit include lists of production and test equipment, process diagrams, a list of subcontractors and suppliers and a quality manual.
The initial factory inspection usually takes several days (usually 3-4 days). The length varies depending on the number of product categories and standards for which an application is submitted. KGS often requires further auditing of certain suppliers as part of the factory audit. Consequently, additional time must be calculated depending on the scope of the plant's outsourced activities and the physical distance to the subcontractors.
If deviations are found during the factory inspection, KGS may ask for re-auditing, which is normally limited to the scope of corrective actions for the identified non-conformities. If only minor non-conformities are found these corrective actions may typically be validated by re-examining the submitted documentation. However, in case of major non-conformities KGS may even require a second on-site audit.
The KGS approval is valid for 3 years. Thereafter a follow-up audit will be required to extend the validity for an additional 3 years. For certain changes, or adding further product categories and standards, a separate audit is normally required. These audits focus on the changed or newly added items and do not extend the existing validity of the factory approval. For certain pressure equipment an additional individual acceptance of the respective products is necessary in a second step after having obtained the KGS factory registration.
KGS Marking
Each product category falling under the scope of the KGS factory registration has its own marking requirements. These usually include manufacturer information as well as product or design-specific data (such as: designed pressure and temperature, internal volume, material and date of manufacture & inspection).
For products that require an individual product approval after the manufacturing site has obtained the KGS factory registration (like pressure vessels), the KGS inspector will apply the KC stamp after successful completion of the inspection.
MPR Services
Your One-Stop Certification Solution.
Our complete package for product certifications for Korea.
Clarification of the certification obligation of your products
Personal contact for all questions regarding KGS
Complete Application preparation and communication with the authorities
Preparation and support of the audit for your KGS factory registration
Advice on marking your products
Organization of follow-up certification
Information about product-specific regulatory changes
Contact Us!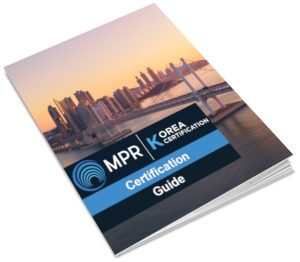 MPR Korea Certification – expert consulting and implementation of certification projects worldwide.
KGS Factory registration Overview
| | |
| --- | --- |
| Validity of KGS certificates | 3 years until the next follow-up audit |
| Certification period | 9-12 months |
| Factory audit required? | Yes, verification of the production and quality assurance processes |
| Follow-Up process | Regular follow-up audits required |
KGS Factory registration FAQ
How do I know if my product needs KGS factory approval?
If your product can be classified in the above overview, a detailed check should be made to see if KGS factory registration is required. Please pay attention to the restrictions already listed in the two tables. We will be happy to assist you in the classification process.
How long does the KGS certification procedure take?
The process usually takes between 9-12 months.
Which certification authorities are approved for KGS factory registration?
KGS registration can only be conducted through the Korea Gas Safety Corporation (KGS). There are no foreign institutions accredited to conduct overseas factory audits or single-vessel approvals.
KGS Factory registration video
Please enable cookies to enable embedded YouTube videos. For privacy-related details on data exchange through use of the videos as well as changeable cookie settings, please see the privacy policy page.