your one-stop certification solution!
What is KC Certification for South Korea?
KC Certification (also known as KC Safety Certification or KC Mark Korea Certification) is a product certification that proves the compliance of products with Korean safety regulations.
The KC certification's primary purpose is to identify and eliminate potential hazards to the health and safety of consumers. After receiving a KC certification, the corresponding product is allowed to be marked with the KC mark, and to be exported to South Korea and sold in the country. In 2009 the South Korean government consolidated 140 different test marks into the current KC mark certification. Products falling under the scope of KC Safety may not be imported to Korea without a valid certification, which is verified by customs during regular checks. If products requiring certification are sold in Korea without correct KC approval, recalls may be ordered, and additional financial penalties or even a sales ban may be imposed on the manufacturer, importer, and/or seller.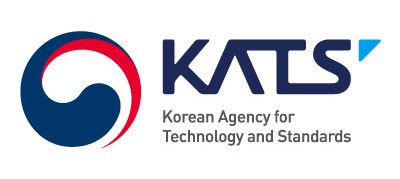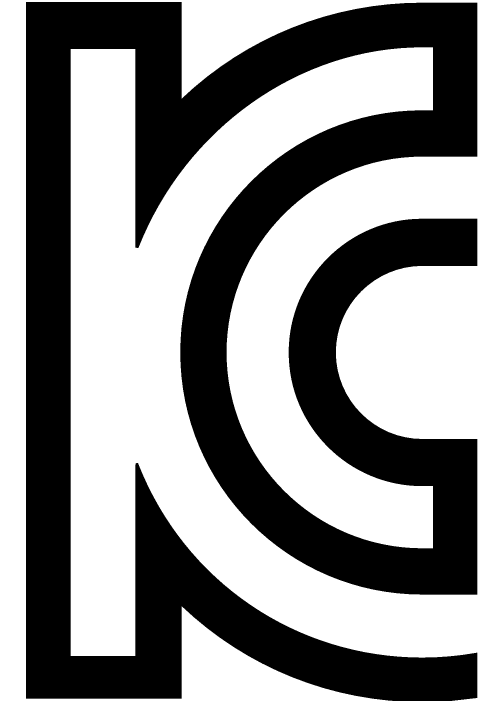 The Korean Agency for Technology and Standards (KATS) is responsible for the KC safety certification system in Korea. KATS is part of the Ministry of Trade, Industry and Energy (MOTIE) and establishes regulatory frameworks around the introduction of new consumer products. This agency is further responsible for developing new standards and represents Korea in the international harmonization of standards. Products which require a KC Label are required to be checked in accordance with the "Quality Management and Safety Control of Industrial Products Act" and the "Electric Appliances Safety Act".
The KC Safety certification system distinguishes between three major product categories, which are electronic products, household products, and products for children.
The KC approval is usually a so-called manufacturer certification. Outside Korea, only product manufacturers are allowed to apply for KC approval of their products and non-Korean traders or exporters are not allowed to apply. Distributors cannot directly apply for approval. After the certification process is completed, the name of the manufacturer of the product will appear on the obtained KC certificates.
Which products require KC Safety certification?
KATS distinguishes between three different product categories for KC Safety Certification:
Electronic products
Household products
Products for children and infants
Excerpt from the KATS product catalog for KC Certification:
| | | |
| --- | --- | --- |
| ELECTRONIC PRODUCTS | HOUSEHOLD PRODUCTS | CHILDREN'S PRODUCTS |
| Audio and video equipment | Pressure cookers | Toys |
| Lighting products | PVC flooring | Cradles |
| Monitors for computers | Brake fluid | Textiles for children & infants |
| Vacuum cleaners | Helmets | School utensils |
| Irons | Skateboards | High chairs |
| Dishwashers | Roller skates | Bicycles for children |
| Printers | Shopping carts | Stroller |
The KC certification catalog is regularly updated by KATS.
In most cases electronic products also require a KC EMC Registration or certification, especially if RF technologies are built-in.
KC Safety Certification Process
There are three different certification types in the KC certification system for each of the three product categories. The various certification types are product specific and differ in terms of the scope and complexity of the certification process.
Type 1: KC Safety Certification:
Type 1 represents the most complex certification process with the most stringent requirements. In addition to product tests in Korea, the production site must also be audited with follow-up inspections each year to maintain the validity of the certificates.
Type 2: KC Safety Confirmation:
Type 2 requires product testing in Korea with applications to complete the certification process. However, no factory audit is required.
Type 3: Supplier Confirmation of Conformity:
Under Type 3, the manufacturer must ensure and be able to demonstrate that products meet Korean standards. Testing in Korea is usually the easiest option for this. Type 3 has als become know as the KC Supplier Conformity Check.
Procedure for KC Mark approval in Korea (Type 1 & 2):
Submission & review of the application
Factory audit (only for Type I products)
Issuance of KC certificate and marking
The first step of KC Safety approval is always to prepare the application. It is also required to provide a product manual in Korean language as part of the application.
What does the KC marking look like after KC certification?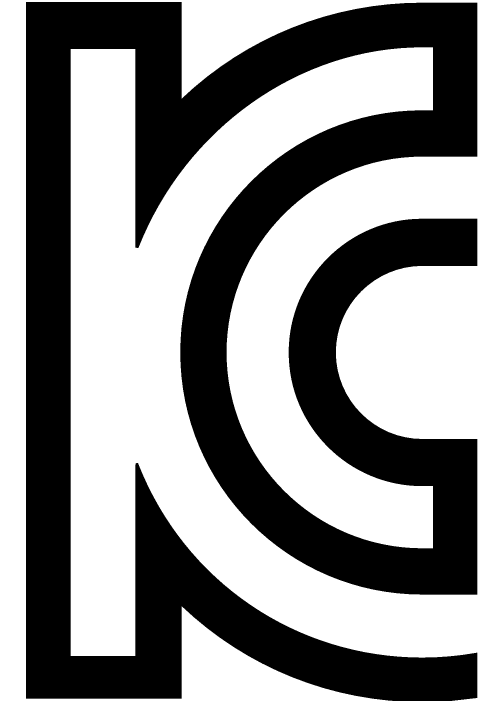 After the KC Mark registration has been successfully completed, the KC logo must be marked on the product. Depending on the type of certification, the logo must be marked in either gold (10YR 6/4) or black (N 2) for Type 1 and blue (5PB 2/8) or black (N 2) for Type 2 products. This KC Mark certification label confirms certification and that the respective product complies with the Korean safety standard.
In addition to the certificate number, certain product-dependent information (e.g., model name, manufacturer's name, support hotline and power supply details) usually need to be indicated on the KC label. This information must be in Korean (with English also being added optionally).
MPR Services
Your One-Stop Certification Solution.
Our complete package for product certifications for Korea.
Clarification of the certification obligation of your products
Personal consultant for all questions regarding KC Safety
Application preparation and communication with the authorities
Preparation and support of the audit (f required) for your KC Safety certification
Arranging for required product tests in Korea
Advice on the marking of your products
Organization of the follow-up certification
Information about product specific regulatory changes
Contact Us!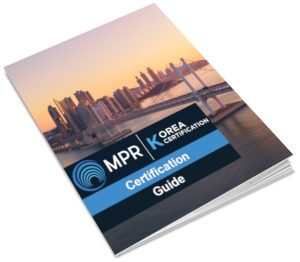 MPR Korea Certification – expert consulting and implementation of certification projects worldwide.
KC safety CERTIFICATION Overview
| | | | |
| --- | --- | --- | --- |
| | Type 1 | Type 2 | Type 3 |
| Validity of Certificates | Subject to regular follow-up certifications | Basically unlimited, but subject to product changes | Basically unlimited, but subject to product changes |
| Certification period | 4-5 months | 3-4 months | 2-3 months |
| Marking | Products must be marked with the KC logo, registration number, and manufacturer + product information | Products must be marked with the KC logo, registration number, and manufacturer + product information | Products must be marked with the KC logo, registration number, and manufacturer + product information |
| Tests required? | Yes, in Korea | Yes, in Korea | Yes, in accordance with the Korean standards |
| Factory audit required? | Yes | No | No |
| Follow-Up process | Regular follow-up audits and product testing required | Market surveillance in Korea | Market surveillance in Korea |
KC safety Certification FAQ
How do I know if my product needs KC Safety certification?
We can check whether the product is subject to any certification requirements based on its technical specifications, international standards, and other information. We are happy to assist here.
How long does the KC Safety certification process take?
The process usually takes about 3-4 months (without audit) or about 4-5 months (if an audit is required). This includes the preparation of the application documents under the condition that all required information is available.
For product testing, 1-2 months should be calculated, depending on how much coordination with the test laboratory is necessary for the respective product.
If a CB certification is available, the certification period could be shortened since not all product tests may not have to be performed again.
Which facilities will be audited?
The audit always takes place at the manufacturer's production site. If production is distributed over several locations, the plant with the last quality assurance production step must be audited.
How do I have to mark my products after certification?
Products must be marked with the KC logo, certificate number, manufacturer details and certain other product specific information.
Do authorities inform KC certificate holders about changes in the regulations?
No, the information is only provided in Korean by KATS on their website. Applicants must track regulation changes independently or hire a consulting firm to monitor changes to be reliably informed of changes that affect the compliance of their products to avoid non-conformities, suspensions or cancellation of their certificates.
Which certification authorities are approved for KC Safety certification?
Being a senior level authority, KATS does not directly certify products. Various Korean institutions are approved for this purpose, each responsible for a specific product category.
The three major certification authorities that are accredited and permitted to conduct product testing & audits and issue certificates are:
What application documents must be provided for KC certification?
The following application documents are required for KC certification:
Application form
Company registration file
Complete contact information of the Korean importer and manufacturing facility
Product descriptions and/or manual (in Korean)
List of critical components
KC or CB certificates of the critical components
Circuit diagram
Marking example
If available, a CB certificate and test report of the product according to IEC standard containing 220V (AC) 60Hz.
If CB certificates and test reports according to IEC standards are available for the respective products, the certification and testing process can be simplified and possibly shortened. However, an important requirement is that the CB certificate includes the Korean voltage of 220V (AC) / 60 Hz.
KC Certification Video
Please enable cookies to enable embedded YouTube videos. For privacy-related details on data exchange through use of the videos as well as changeable cookie settings, please see the privacy policy page.